The numeracy skills test is one of the professional skills tests, used to assess the core skills of prospective teachers. These tests ensure that all teachers are competent in literacy and numeracy, regardless of their specialism. All trainee teachers must pass the literacy and numeracy skills tests in order to achieve qualified teacher status (QTS).
Numeracy Skills Test – Mental Arithmetic
The first section of the numeracy skills test has 12 questions. You listen to the questions through the headphones provided. Calculators are not allowed but you may use a pen and paper for working out.
You hear each question twice and then you must enter your answer into the computer within the 18-second time limit. This requires calm, clear thinking and good mental maths skills.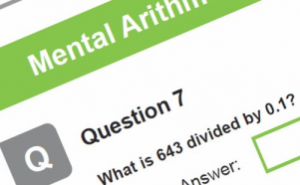 Areas assessed in the Mental Arithmetic part of the test include:
Addition, subtraction, multiplication & division
Fractions, decimals & percentages
Calculations with money including travel expenses
Time calculations
Currency conversions
Numeracy Skills Test – On-screen
In this section you see each of the 16 questions on the computer screen. Questions often feature visual information in the form of tables, charts and graphs. You are allowed to use a calculator.
There is no time limit per question but you have 36 minutes in which to answer all 16 questions. You may move forwards or backwards through the list of questions completing them in any order.
Areas assessed in the On-screen part of the test include:
Averages
Using formulae
Interpreting line graphs, scatter graphs & cumulative frequency curves
Interpreting box plots, bar charts & pie charts
Analysing trends in data
All topics from the Mental Arithmetic section
How to Pass the Numeracy Skills Test
As with any maths-based test, practice is the key. Learn your times tables, brush up on your mental arithmetic skills and complete as many practice tests as you can. Start by attempting practice questions without any time pressure, then start timing yourself and finally force yourself to stick to the time constraints of the actual test.
The Department for Education have a small number of practice tests.
For more information on booking your test see the Get Into Teaching website.
If you're looking for extra help then book a tutor session by phoning 0798 4042648 or by using the contact form to send me a message.